Impromptu Pork and Hominy Stew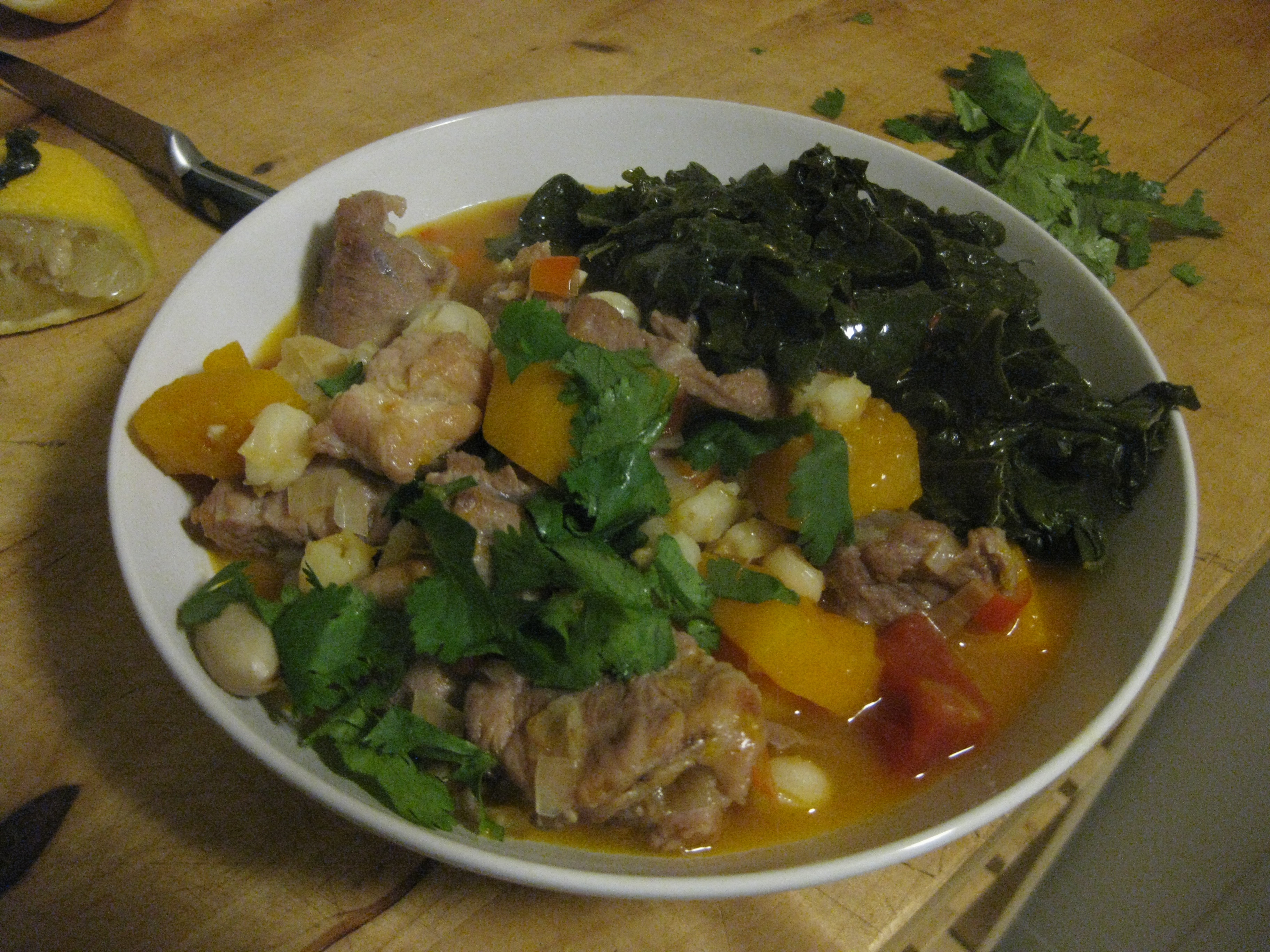 I stopped at the farmers' market today on the way back from the office. My "shopping list" was a $20 bill that was burning a hole in my pocket and a desire to get some fresh produce. At one of the first stalls I passed I found these beautiful (and unnamed) winter squash. I was suddenly struck by a bone-deep need to have a hearty pork and squash stew. With posole. Like that very very tasty pork and posole stew that Eric made that once. Yeah, I need something kinda like that.
So I raced around the market, picking up random things I thought would work in the stew. Then I stopped by Berkeley Bowl and picked up the pork. Vague plan in mind, I headed home and came up with the following:
2 Tbl oil
2.5# pork butt, boned and cut into 1″ chunks
4 Hungarian or similar mild-ish peppers, seeded and diced
1 large onion, peeled and diced
6 garlic cloves, peeled and minced
3 Tbl flour
1 2# winter squash, peeled, seeded and cut into large-ish chunks
3 cups shelled fresh cranberry beans
4 cups cooked posole (i.e. hominy)
1 can diced tomatoes
1 quart chicken stock
Salt to taste
Fresh cilantro to finish
Heat the oil in a large (5-6qt) dutch oven
Brown the pork (in batches if needed) and set aside
Sautee the onions, peppers and garlic in the remaining oil until soft
Sprinkle soft veggies with the flour, mix well and cook for ~ 5 minutes (this will thicken the stew slightly)
Add pork (and any liquid it gave off), beans, posole, squash and tomatoes. Mix then add the chicken stock
Bring to a boil then reduce to a simmer, put the top on the pot and let cook for about an hour
Season to taste
Serve topped with chopped cilantro
For an improvisation I gotta say this was AWESOME. The pork was able to cook long enough that it melts when you eat it. The shell beans and posole add fun texture (and flavor). The squash was not too sweet so the stew is nicely balanced. The one thing I'd probably change is to add salt earlier in the process.
I served this with some kale I picked up at the market. I steamed it, shocked it in cold water then finished it off by sauteing it with EVOO and hot pepper flakes and hitting it with some lemon juice and salt. It worked brilliantly with the stew.
Leave a Reply
You must be logged in to post a comment.